About Yvette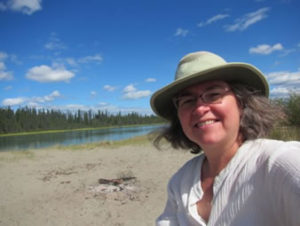 I moved from the lower mainland of B.C. to Whitehorse in 2006 when I married a "long-time Yukoner". We both love the Yukon and consider this to be our true home.
Throughout my professional life I have provided a range of services to individuals and families facing difficult life challenges.  I have worked in a variety of settings, typically as part of an interdisciplinary team, and often with those who have complex needs.
Since moving to the Yukon I have been working with a long-stay residential treatment home for "high risk" adolescent males with intellectual disabilities. My role has been that of clinical and program consultant to management, staff trainer, and since 2013, as one of the program's therapists until 2015. I have since opened a part-time private counselling practice in downtown Whitehorse. I also thoroughly enjoy being a sessional instructor with the Bachelor of Social Work Program, at Yukon College.
I began working in the field of developmental disabilities in the mid-1980's, first as a front-line home support worker, then as a Special Education Assistant, and later as a community support worker. After obtaining my B.S.W., I provided social work services to typical parents with children who had special needs, as well as to parents who themselves had intellectual disabilities and/or mental health issues.  I also have extensive experience as a medical social worker, counselling individuals and families in need of end-of-life and bereavement support, as well as to those struggling to adapt to health-related challenges.
I feel blessed to be living in this beautiful territory and by being part of community life here in Whitehorse.  If you would like to be in touch please do so through my contact page.